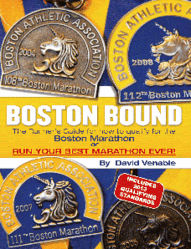 Bargersville, IN (PRWEB) July 27, 2011
Learn the ropes on qualifying for one of the world?s most prestigious races from a six-time Boston Marathon finisher. The author of the new book, 'Boston Bound: The Runner's Guide for How to Qualify for the Boston Marathon of Run Your Best Marathon Ever!,' is a dedicated runner who has completed nearly 50 marathon and half-marathons. He has firsthand experience of what it takes to train and run in these grueling events. Bitten by the running bug after entering his first half marathon at age 40, Venable?s competitive spirit has taken him from international marathons to the extremes of running in Death Valley, which routinely has temperatures more than 120 Farenheit. Although he?s run in many races, it?s clear his favorite is the Boston Marathon, which draws runners from around the world while requiring qualification for entry.
'Boston Bound', published by Dog Ear Publishing, offers serious runners proven training techniques and strategic approaches for running a fast marathon, based on five years of research by Venable, who feels compelled to coach other runners to achieve their personal best and to qualify for events like the Boston Marathon. Readers will find everything from proper clothing to nutrition, injury prevention, selecting a qualifying venue, the proper taper and a suggested marathon training schedule. The book includes qualifying standards for 2013, and the final chapters feature personal stories of others that have overcome challenges and inspired the author to pursue excellence in his own life.
Author David Venable moved from being a novice runner finishing in the mid-pack to a top 1 percent finisher while running everything from a 10K to a marathon. Venable has been inspired to give back in honor of his mother, who battled cancer. All proceeds from Boston Bound will benefit select organizations dedicated to fighting cancer, via donations to Goals That Give Inc.
For more information, visit http://www.BostonQualifying.com
Boston Bound: The Runner's Guide for How to Qualify for the Boston Marathon of Run Your Best Marathon Ever!
David Venable
Dog Ear Publishing
ISBN: 978-145750-139-5, 214 pages, $ 14.95 US
Available at Ingram, Amazon.com, Barnes & Noble

and fine bookstores everywhere
About Dog Ear Publishing, LLC
Dog Ear Publishing offers completely customized self-publishing services for independent authors. We provide cost-effective, fast, and highly profitable services to publish and distribute independently published books. Our book publishing and distribution services reach worldwide. Dog Ear authors retain all rights and complete creative control throughout the entire self-publishing process. Self-publishing services are available globally at http://www.dogearpublishing.net and from our offices in Indianapolis.
Dog Ear Publishing ? self-publishing that actually makes sense.
###