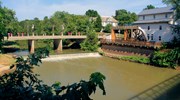 Jasper, IN (PRWEB) July 18, 2013
The chugga-chugga-chugga sound of the locomotive indicates forward motion, and the whistle blows alerting passersby to clear the path for the Spirit of Jasper train. Having recently been named by Midwest Living Magazine as #3 in the Top Ten Best Places to Eat, Play & Stay!, the Spirit of Jasper?s story continues to build momentum. It could easily be a chapter in the children?s book, ?The Little Engine That Could,? as it was only a few years ago that a locomotive was obtained for the City of Jasper, a beautiful German-American society of 15,000 people in southwestern Indiana that had recently constructed an authentic replica of its former depot, but had no train.
Soon, three additional cars, each with a unique history, were purchased and beautifully refurbished by volunteers and city employees through generous funding made possible by local businesses along with ROJAC, a local citizens? group, Redeveloping Old Jasper Action Coalition. Suddenly it seemed, a train was created and passengers were ready to book ride & dine and fall foliage excursions as well as trips to nearby French Lick Springs Resort & Casino, and they do. During the past year, more than 3,500 passengers rode the Spirit of Jasper for scheduled train rides as well as private charters.
To better understand how the Spirit of Jasper came into existence, one must go back more than ten years to the dream and wherewithal of a local businessman, Dave Buehler, who proposed creating a vehicle-free pathway along the Patoka River, a small stream meandering through Jasper, for the community to enjoy for walking, running and bicycling. His proposal resonated with support of municipal officials and forty different landowners, and soon he made it happen. The Jasper Riverwalk now stretches more than two miles through picturesque wooded areas and along farm fields and is heavily utilized by casual walkers and bicyclists as well as for organized events including numerous 5K runs as well as the Heartland Half Marathon that attracted nearly 700 runners from throughout the Midwest in 2012.
Mr. Buehler and the ROJAC team haven?t stopped with the Jasper Riverwalk, Spirit of Jasper Train or the Train Depot. The group also made sure to reconstruct Jasper City Mill along the Patoka River near the Train Depot and made arrangements to have a beautiful new German American Boulevard created out of what was once a gravelly rail yard. The 2,000+ square foot mill is the capstone project that features a water-powered wheel and grindstone, making it a working grist mill.
According to Buehler, ?We?d like to add an interactive, serpentine-shaped water feature as well as a year-round market to Old Jasper. We?re also considering the possibility of recreating a country schoolhouse that our teachers could use to show the youth of today how their great-grandparents were schooled many years ago.?
So what is the energy that has powered the redevelopment of Old Jasper and the Spirit of Jasper train? The credit goes to Mr. Buehler, the catalyst behind these creative ideas. As he noted, ?There?s so much pride in this community, and we?ve received such broad-based support from area residents. It?s amazing, and we?re not finished yet! We can do so many things if we just broaden our horizons and bring back the best ideas from other locations to our little city. We?ve got to have goals, visions, and dreams. We?ve got to be bold, and if we can think it, we can do it.?
For more information about booking a reservation for a Spirit of Jasper train excursion, visit http://www.visitduboiscounty.com/ or http://www.spiritofjasper.com or call 812/482-5959.
Related 5k Run Press Releases