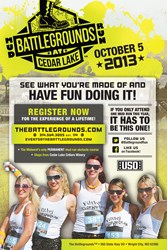 St. Louis, MO (PRWEB) August 30, 2013
The BATTLEGROUNDS? Mud Run, the Midwest?s only permanent mud run obstacle course, announced today it is recognizing the great American worker with a special discount offer for the facility?s signature Battlegrounds Mud Run Exclusive race on Saturday, October 5.
Runners who register for the race by midnight on Labor Day–Monday, September 2– will receive $ 20 off the regular race entrance fee. To register, just click here, and use the code BG20.
Whether you are a team of one, or a team of 20, The BATTLEGROUNDS? Mud Run, on October 5 is the perfect place for you. Make your way through muddy trails and overcome more than 30 obstacles like the 50-foot tall Torpedo Launcher, the grueling Gauntlet, or slide down the Valley of Mud.
Whether you tackle all the obstacles or get a little help from a friend dealing with them, this course is a fun test that will give you a chance to see what you?re made of, and have the time of your life doing it.