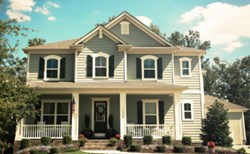 Waxhaw, North Carolina (PRWEB) September 24, 2013
More than 200 residents joined together for pool relay races, games of old-fashioned foursquare, three-legged racing, egg toss and more, topped-off by a community tailgating dish cook-off! Onsite was also a balloon artist and a face painter to keep smiles on all MillBridge kid?s faces.
Charlotte area professional photographer Rich Becker, owner of Rae Elle Photography, was on hand at the community clubhouse and swimming pools, some MillBridge neighborhood amenities, to capture the spirit of the event.
?The end of summer is a great time to get together and celebrate with your neighbors,? said Annie Kilby, senior vice president for marketing of Landeavor, the developer of MillBridge. ?Family Fun Day has evolved into an annual event that is talked about for weeks. It?s just another example of the sense of community and traditions that are evolving at MillBridge.?
MillBridge real estate offers unique opportunities for purchasers to live in a community with an on-site elementary school, Waxhaw?s only municipal park and a variety of Essex Homes, Bonterra Homes and Ryan Homes for today?s discerning buyer.
About MillBridge
Located in historic Waxhaw, N.C., MillBridge is a 920-acre master-planned community that features the Charlotte area?s only functioning covered bridge. The inclusive, resident-focused community offers pedestrian-friendly sidewalks along tree-lined streets, parks, walking and biking trails, common squares and greenways for the 2,000 residents who will call MillBridge home. The community house, which spans 9,000 sq. ft. indoors and more than 60 acres outdoors, offers an aquatic center with three pools, ?airnasium? with a full basketball court, fitness center, movie theater and special event facilities. With homes starting in the upper one hundred thousands, MillBridge has some of the finest Waxhaw NC real estate available for families to grow into and enjoy for years to come.
This release was brought to you by Element 360, the Asheville marketing team behind the MillBridge internet marketing campaign. Element-360 uses a combination of research and tactical based strategies to support the growing sales. E360 specializes in SEO, PPC campaign management, and technology integration for the goal of ensuring maximum lead generation.