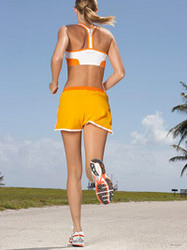 New York, NY (PRWEB) March 18, 2009
New York, NY March 18, 2009– FitnessMagazine.com is featuring a Marathon and half Marathon training schedule this month along with a beginners guide to running your first 10K race. Developed by the experts at Fitness Magazine, the website's "Spring into Fitness" features also offer exercise tips for Marathon runners and those just starting to run. Plus, arm exercises and shoulder workouts to help anyone get toned in time for sleeveless season.
Stephanie Jones Wagle, Site Director for FitnessMagazine.com, said, "Whether you're training for your first marathon or trying to move from a walk to a run, we've got the training schedule for you. Don't miss our running plans for beginners, half-marathons, hill workouts, speedwork, and more."
Among the features you'll find on the website are:
Marathon and Half Marathon Training Schedule — Ready to tackle a half or full marathon? No matter what your fitness level, Fitness Magazine will get you ready with its 16-week training program, complete with workout schedules, strength-building and stretching moves, and energy-boosting meal plans.
Guide to Running — Add "helping the greater good" to your list of exercise accomplishments by running or walking for a charitable cause. Check out this list of FitnessMagazine.com's favorite charities, and find out how you can give a little something back as you get fit.
Fitness Tips — Hamstring cramps slowing your pace? Bored of the machines at the gym? Make the most of your workout with quick fitness tips, advice from Fitness Magazine's best experts, and foolproof strategies from its editors.
Arm Exercises and Shoulder Workouts — Get the sculpted arms and shoulders you've always wanted with these arm exercises and shoulder workouts. Start with the Get Tank-Top Toned arm workout video, or target your shoulders with the ABCs of Sexy Shoulders exercises. Start today and you'll be wearing sleeveless tops with pride in no time.
About FitnessMagazine.com

Developed by the experts at Fitness Magazine, this is the premiere Web site for exercise, health, and nutrition information. From our Personal Fitness Trainer to our healthy recipes, from Video Workouts to our free exercise logs, FitnessMagazine.com is the guide you need to help you reach your fitness goals and celebrate your successes.
Like the magazine, FitnessMagazine.com is dedicated to delivering strategies and tools that help women make little changes to achieve big success. With a you-can-do-it attitude, our workouts, health and beauty advice, diet plans and suceess stories motivate readers to get strong in mind, body and spirit. The magazine empowers women to embrace fitness as a lifestyle–not an age or dress size–and to change the conversation from "skinny" to "healthy."
###