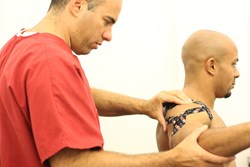 New York, NY (PRWEB) January 07, 2014
Dr Steven Shoshany, a New York City based chiropractor, will soon provide RockTape "Performance Movement Taping" in Manhattan. Dr Shoshany has been providing Kinesio Taping services in Manhattan for several years and was one of the people responsible for popularizing it as a very powerful tool to assist in athletic performance, injury rehabilitation and used it to help people move with less pain during the course of their recovery.
Dr Shoshany will be attending a RockTape seminar on January 11, 2014 to complete his Performance Movement Taping certification. Performance Movement Taping is a RockTape method that according to RockTape, will use assistive taping to "achieve mobility, stability, and balance in core fundamental movements."
While Dr Shoshany has appeared in many television shows, and news broadcasts to talk about the benefits of some of the treatments he offers at his downtown integrated medical practice, it has been kinesio taping which has become the most well known, and popular assistive treatment technique. It has become very popular in part due to the explosion of the Crossfit movement and their love of the RockTape brand of assistive athletic taping.
Dr Shoshany is a certified Kinesio Taping practitioner, and works alongside a certified Rock Doc, who is also the practice's Physical Therapist. Being able to work alongside a Doctor of Osteopathic medicine, Massage Therapists, and Chiropractors has been very effective in helping Dr Shoshany treat his patients. Many of Dr Shoshany's patients are athletically active, but also sit in an office for long hours. This kind of lifestyle can have a compounding effect on their injuries if they get hurt in the gym, or while out running. Dr Shoshany has seen a vast array of injuries, whether they result from progressing too fast with Crossfit workouts, marathon training, swimming, and even boxing.
"I have found RockTape products in practice as yet another tool to help speed up my patients' rehabilitation, and to increase the time they can spend working out pain free. I also work with competitive Crossfit athletes and we work on them as a team, they will see the doctor, the chiropractor, and then undergo physical therapy. I know that they can't spend much time away from their workouts so I also use assistive taping to lower the chances of them exacerbating their injury and setting the rehabilitation work back" (Dr Steven Shoshany).
For more information about chiropractic service in manhattan, RockTape services, or to find more information on the treatments mentioned above visit Dr Shoshany's website http://www.drshoshany.com, or contact his office by phone at 212 645 8151. Dr Shoshany is located at 632 Broadway in New York City.