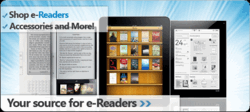 Vancouver, BC (PRWEB) December 09, 2011
Shop e-Readers today ironed out an agreement with Simon Fraser University to have e-readers sold in the student book store. This is the first time in the history of the school that that they are stocking e-readers on their shelves and offering the popular Amazon Kindle 4th generation in their store.
The Amazon Kindle 4th generation allow students to buy ebooks and digital textbooks from the official Amazon store. This allows students to save up to 35% on new textbooks and get free shipping on orders over $ 25.00. Not only do the economic factors come into play on saving money but you also go green in the process.
Shop e-Readers it the leading Canadian provider of ebook readers and their online store has seen record growth in 2011. The company has all of the popular brands of devices in their inventory such as the Amazon Kindle Fire, Barnes and Noble Nook Tablet, Kobo Vox, Kindle Touch and many more. They offer fast shipping in Canada and also ship internationally, something most companies do not do.
"We are very excited about dealing with a fine educational institution like Simon Fraser University!" said Shop e-readers Digital Media Manager, Kelly Hannah. "This is one of the largest higher learning institutions in Western Canada and we are very happy about offering the students the chance to move into ebooks and textbooks. We have really moved ahead on the distribution side of e-readers and see our products in many local bookstores, including Blackberry Books on Granville Island. Students should be on the lookout for our new display stands setup in the store and have a demo unit to play around with."
With the holidays quickly approaching e-readers and tablets are reaching critical mass and many people find the devices are unavailable in their local markets. Canada suffers from a large selection of e-readers to choose from. Shop e-Readers continues to deliver the latest generation of e-readers to both the end user and educational institutions.
About Shop e-Readers
Shop e-Readers is a Vancouver, British Columbia based business that currently employs over nine people. The company leads the Canadian market with their vast selection of e-readers, screen protectors and cases. Each e-Reader shipped is accompanied by a DVD Tutorial that teaches the user how to use the device and also receives 100 free ebooks to get reading right away.
###
Find More Student Book Store Press Releases