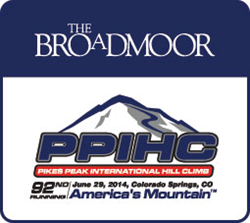 Colorado Springs, Colorado (PRWEB) June 27, 2014
When most Americans think of motor sports, events like the Daytona 500 and the Indianapolis 500 and racers like Dale Earnhardt, Jr., Jimmy Johnson, Mario Andretti, and Danica Patrick immediately come to mind. Yet these top shelf races and drivers are at the very top of the racing pyramid in a nation that loves its motor sports and obsesses over whom leads the American race series point series week-in and week-out.
What many motor sports fans may not be aware of is that the second longest running motor sports in the United States is not a 500 miler or is run through the streets of major cities. The true test of motor sports racing may, indeed, includes a 12.4 mile stretch of road with 156 turns up the side of a mountain. The Pikes Peak International Hill Climb does test the mettle of racers from around the world and includes as many as 16 different types of vehicles that challenge the elevation and the twisty-turny nature of the course as they go full speed up America?s Mountain during the Race to the Clouds.
?The Pikes Peak Hill Climb is a race like no other,? beams Mitch Snow, Media and Event Coordinator for the 92nd edition of the race. ?This mountain throws things at our racers that forces them to adapt on the fly, keep their wits on hairpin turns around huge hilly drop-offs, and combine their intellect and risk-taking to get to the summit at 14,000 feet. There have been drivers in this hill climb for 20 years who have never made it to the finish line.?
After last year?s historic 8 minute and 14 second run up the 12.4 mile course by French racing phenom Sebastian Loeb, this year?s edition of the Broadmoor Pikes Peak International Hill Climb is again filled with intrigue. Some of the engaging storylines include: