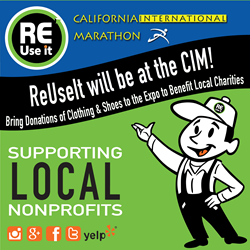 Sacramento, CA (PRWEB) December 04, 2014
ReUseIt, in partnership with Sacramento Running Association (SRA), is making it easy to de-clutter homes while making a difference to local charities by hosting a Clothing & Household Donation Drive during the California International Marathon (CIM). The Clothing & Household Donation Drive will take place at the Health & Fitness Expo leading up to the race on Friday, Dec 5 from 12-6pm and Saturday, Dec 6 from 9am-5pm at the Sacramento Convention Center located at 1400 J. Street in Sacramento. ReUseIt will also be collecting clothing from the runners at the CIM on Sunday, Dec 7 near the starting line at Folsom Dam.
All items collected through this Sacramento Running Association event will directly benefit their Youth Fitness Program and UC Davis Children?s Hospital. This unique fundraiser does not cost any money and it promotes responsible recycling. It is a great way to give back to the local community while raising money for important organizations in the Sacramento Region.
The SRA, a 501(c)(3) non-profit organization was established in 1982 with the mission of bringing world class running events to the Sacramento area. The first state of this mission was fulfilled when the inaugural CIM was held in December of 1983. Since then the success of the CIM has enabled the SRA to expand its mission to encourage people of all ages to develop a healthy lifestyle through running. To this end, it has established a variety of running events and programs and provides funds and resources to a number of internal beneficiaries and community organizations. The specific purposes of the SRA are to: promote fitness through running; bring international attention to Sacramento, California as a popular running community; and sponsor, organize and conduct high quality running events that will attract top athletes and the general running public.
The FREE youth fitness programs developed by the SRA include the School Year Program, the CIM Program, the Spring Track Program, and several short distance fun runs and relays held in conjunction with longer SRA events. Over 5,000 kids participate annually in the SRA youth fitness programs! The SRA believes these programs will help children establish lifelong fitness habits, so they too can be active at age 77 and beyond. Funds raised during this event will directly benefit the SRA Youth Fitness Program and UC Davis Children?s Hospital.
This unique recycling fundraiser event is sponsored by ReUseIt, a registered, local business that provides support & service to nonprofit organizations in our local communities. The ReUseIt team has over 40 years of experience in the household recycling industry, and is dedicated to making a difference locally. Big Brothers Big Sisters of the Greater Sacramento Area will also benefit from this Clothing Drive event through ReUseIt. ReUseIt offers local nonprofit organizations the opportunity to raise important funds for their cause without having to spend a dime. All donations are tax deductible.
Donated items that are accepted include usable clothing, shoes, jewelry, belts, purses, backpacks, bedding, linens and other small non-breakable items. For more information please visit http://www.ReUseIt.org. ###