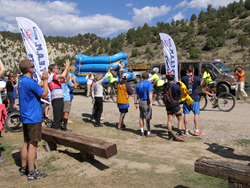 Eagle, CO (PRWEB) October 31, 2014
Two new short videos by independent filmmakers offer unique views of national non-profit World T.E.A.M. Sports? annual Adventure Team Challenge in Colorado.
The recently-released videos of the three-stage inclusive outdoor event for disabled and able-bodied athletes were created by Victor Henderson of Verona, Wisconsin and Andrew Bishop of Vail, Colorado. Both are active outdoor athletes who regularly participate in rafting, mountain climbing and bicycling and attended the September 12-14 Challenge at the remote Rancho del Rio resort.
Hosted annually in Colorado by World T.E.A.M. Sports, the Adventure Team Challenge is one of several inclusive sporting events from the organization. This year?s event, the first in the high Gore Range near Vail since 2011, attracted ten teams of five athletes each.
Like many outdoor multisport adventure races, the Challenge sends participating athletes through several sporting activities, including mountain biking, river rafting on the Colorado River, orienteering and rope work. Each participating team included two athletes with disabilities, one being a wheelchair user. Both military veterans and civilians from 12 states across the United States and Canada joined this year?s Challenge. Disabilities ranged from blindness to paralysis to loss of limb to post-traumatic stress.
Cooperation and teamwork between team members is critical to successfully completing the Challenge. Through close cooperation, all teams have completed the Challenge since the inaugural 2007 event.
A participant of World T.E.A.M. Sports? CanAm Veterans? Challenge bicycle ride with injured veterans in June 2014, Henderson is a Navy and Marine Corps veteran who teamed with blind veteran Steve Baskis on a tandem bicycle to complete the nearly 800-mile ride. Following the July 4 arrival of the participants in Washington, D.C., Henderson was invited to travel to Colorado to assist with the documentation of the Adventure Team Challenge.
Henderson includes remarkable video of the teams undertaking various physical challenges, from ziplining across the Colorado River on a high line to helping hand cyclists climb a steep mountain trail to paddling rafts through Class 2 rapids. Using a small camera-equipped drone, Henderson?s video includes dramatic scenes flying over the teams, providing a birds-eye view of the action.
Bishop returned for his second Adventure Team Challenge, having created a short documentary of the 2013 Challenge at McInnis Canyons National Conservation Area west of Grand Junction, Colorado. Working closely with event directors Billy and Helene Mattison of Vail, Bishop returned to the Challenge to create a different video than the previous year. For 2014, Bishop concentrated on the positive effects outdoor sports can offer to persons with disabilities. Gina Utegg, a Tewksbury Massachusetts athlete who became disabled through a serious automobile accident and a subsequent successful battle with cancer, is profiled in the short production.
?The Challenge always seems to amaze me,? said Utegg, who previously competed in the 2012 and 2013 Challenges. ?It?s a physical, mental and strategic competition that brings out strengths and weaknesses of each team member at one point or another during the race.?
The 2014 Adventure Team Challenge Colorado was supported through sponsorships and partnerships from Pearl Meyer & Partners, Benson Botsford LLC, Devens Recycling Center, Front Street Re, The Independence Fund, INTEGRATED Healthcare Strategies, Oregon Adaptive Sports and Timberline Tours. Additional support was provided by James Benson and George Puskar. The Adventure Team Challenge will return to Colorado September 18-20, 2015.
About World T.E.A.M. Sports
World T.E.A.M. Sports is a 501(c)(3) not-for-profit organization chartered in North Carolina and headquartered in Holbrook, New York. Since 1993, World T.E.A.M. Sports has organized athletic events for disabled and able bodied citizens ? mountain climbing, white water rafting, biking, and more. Four things always happen at our events: (1) Disabled participants build self-confidence and physical fitness; (2) The disabled provide a role model for other disabled citizens, encouraging them to take up physical activities; (3) The disabled become a moving inspiration to other participants and to spectators when they see that disabled individuals can meet challenges beyond anyone?s imagination; and (4) The disabled and able-bodied participants learn to work as a team to overcome those challenges. World T.E.A.M. Sports changes lives through sports.