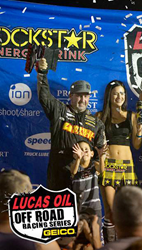 Compton, CA (PRWEB) September 24, 2014
With the championship battle still very much up for grabs, the elite of short course off-road racing raged through the dirt at the Las Vegas Motor Speedway for Round 13 of the 2014 Lucas Oil Off Road Racing season. Team 4 Wheel Parts racer Greg Adler battled through 16 action-packed laps to secure a 2nd place Pro 4 finish.
?We felt that we were really starting to get the truck closer to where we need it to be,? said Adler about his early practice and qualifying sessions, ?The truck was working well and we?re getting the handling figured out.?
As the pack of 900-horse-powered, all-wheel-drive trucks roared through the night, Adler dug in to bring his #10 Pro Comp Pro 4 truck toward the front of the pack, landing himself in the battle for the lead with the #96.
?We were side by side in turn one and heading up to turn two, he held the inside on the corner,? Adler recounts, ?We really had a good run on him and I got under him a couple of times and we just couldn?t make it stick ? but it?s always exciting to be racing up front for the lead.?
The Pro 2 race was eventful, although not as fruitful, for the 4 Wheel Parts team. Falling victim to a mechanical failure that prohibited him from contending for the podium, Adler was able to bring home his truck in ninth place, salvaging a top ten result for the round.
Ultimately, Adler finished the weekend with a hard fought second place finish to take his third Pro 4 trophy and fourth trip to the podium of the season.
?This team has worked incredibly hard for us to finish the season strong. We know we have the speed to get this truck to the top of the box and today, we?re pleased to bring home another trophy for everyone who supports our organization.?
Round 14 of the Lucas Oil Off Road Racing Series was scheduled for Saturday night, but Mother Nature had other plans. Severe storms drenched the dirt track, transforming it into a Lucas Oil Off Road mud bog and intense thunder and lightning threatened the safety of fans, racers and officials alike. The decision was made to combine Round 14 with the series? finale at Lake Elsinore Motorsports Park Thursday-Sunday, Oct. 23-26 where Adler will be competing in a total of five events including the Lucas Oil Challenge Cup.
For those fans that can?t see the action live, the Lucas Oil Racing series is broadcasted on CBS, CBS Sports Network and MavTV.
Team 4 Wheel Parts partners: Hypertech, Magnaflow Exhaust, Daystar, RedKap, 5-Hour Energy, 4 Wheel Parts, Hawk Performance, Pro Comp, E3 Sparks, AMP Research, K&N Filters, G2, FOX, Fiberwerx, Mastercraft/Impact, JE Pistons, AutoMeter, GoPro and Optima Batteries.
About 4 Wheel Parts: 4 Wheel Parts is a retailer specializing in aftermarket parts for off-road and 4×4 enthusiasts. With 64 locations in North America, 4 Wheel Parts installs all the products it sells while also operating a robust mail-order and e-commerce distribution network to serve customers around the country and around the world. 4 Wheel Parts carries North America?s largest inventory of truck and Jeep parts including Jeep lift kits, tonneau covers, running boards and more. Their toll-free order number is 877-474-4821.